Building a Healthy Community
Our Mission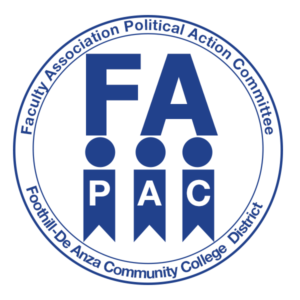 Faculty Association Political Action Committee
The Foothill-De Anza Community College District Faculty Association Political Action Committee (FA PAC) is an arm of the labor union representing all faculty in the Foothill-De Anza Community College District.
Please join us in the fight for economic justice and for student access and prosperity.

Faculty Association
The Foothill-De Anza Faculty Association (commonly called "FA") is a locally governed, independent labor union, incorporated in 1977 by the faculty in the Foothill De Anza Community College District. FA represents all full-time and part-time instructors in the District.
FA is comprised of its faculty membership; ten executive staff members, who along with others represent faculty on various district and campus committees; and, an elected Executive Council, which sets FA policy and serves as the voice of the faculty on bargaining and related issues.
FA and the District collectively bargain decisions on salary, working conditions, academic calendar, hiring practices, class size, and other terms and conditions of employment at Foothill and De Anza colleges. We have all worked collectively to create an outstanding community college district, a pioneer and pacesetter in many forms of educational programs and services to students.
The success of the organization depends on the energy and vision of faculty. We at FA sincerely hope your work at Foothill-De Anza is both rewarding and joyful.

Faculty Association of California Community Colleges
FACCC is a statewide professional membership association that advocates solely for all California Community College faculty.